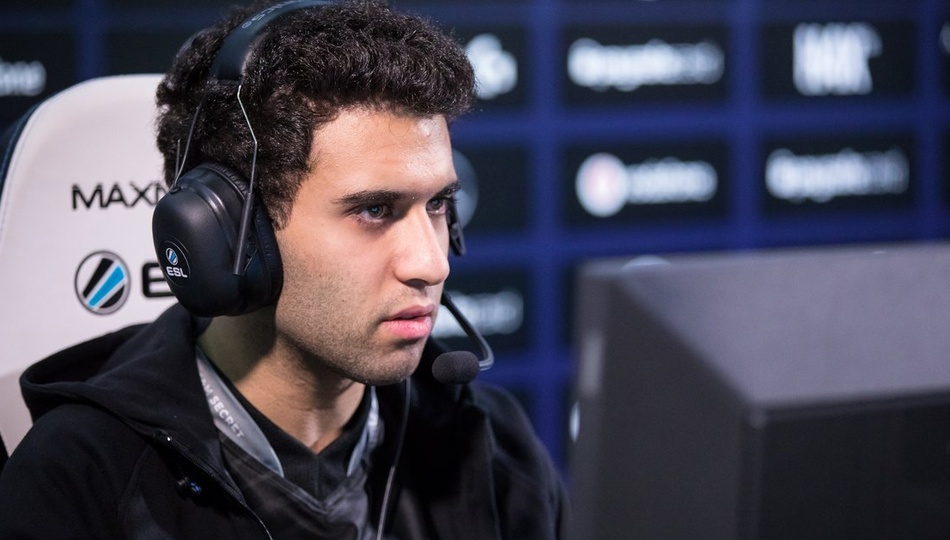 YapzOr at Katowice Major : "It's cocky to feel bad about a loss you didn't even practice for."
Team Secret support Yazied "YapzOr" Jaradat talked to Cybersport.com at ESL One Katowice 2018 after their elimination about the DPC issue with qualifiers, how the new patch cycle is going to determine the best teams and about their "boners" problem in game 3 vs Fnatic.
* * *
A few players we talked to expressed mixed feelings towards the new Dota Pro Circuit: too many events, too many qualifiers, weird points distribution. What are your feelings about it?
I do like the new system, but the qualifier aspect is true. It is too much and it is not organized enough. In our case, thankfully we get direct invites to almost everything so we don't play qualifiers anymore. However, when we used to, it was a huge struggle to be able to manage and organize our schedule: which tournaments we are going to and which we are not, which qualifiers to accept and which not to. It was very stressful at one point.
Do you like the new Dota 2 bi-weekly patch cycle?
I like it a lot. First of all, it's good for the community, because people like change. Second of all, it is nice for the competitive scene, because I think it's another pretty cool way to differentiate the real top teams among the Tier 1. There are a lot of them, but some are above others. With a patch every two weeks, there will be no top teams that rely on just one play style or one strategy. The top teams will know how to adapt quicker, that's when you can really see true skill.


With a patch every two weeks, there will be no top teams that rely on just one play style or one strategy.
Do you think of any particular example in mind, like OG and their Naga Siren plus Radiance illusions strategy?
I was thinking in general, but I kind of remember Alliance back in the days. There are a lot of teams that abuse strong things, for sure. However, the strong things are open for everyone. Everyone can do it. So you can't really blame a team for using something strong. They are making a living out of this, it's a profession. You need to do what you need to do. You either counter it, or you take it yourself.
Do you have an example of a Tier 1 team that stands out? Is Team Liquid too easy of an answer?
It is, obviously. Alternative for us, if it's not Liquid, it is probably Vici Gaming. We've known how strong they are for quite a long time and this is finally the time when they really show their strength. We knew one day they would show up at a tournament and crush everyone, because we learned so much from them and I think we were able to win our first Major because of that.
What do you think makes Vici Gaming stand out so well?
I think they understand hero match-ups very well. Especially support matchups. I never realized how important they actually are until I played them. What really stands out to me is how quick they are. It's not about pace, they just always make the first move when they are at their top level and not playing against Newbee, because they are Chinese slayers or something. You always react and can never play your own strategy, your own game. It's so hard to play.
If you would play for any other team in their current state, what team would it be?
Team Liquid for sure. I think Team Secret and Team Liquid have a lot of similarities. We each have a German player, we each have a Jordanian player, we each have a Korean coach, we have the two oldest captains in Dota 2 and a lot of us have played with each other before and have history. We learned a lot from them, then it changed and they started learning a lot from us. Now we have immense amounts of respect for one another.
Game 3 vs. Fnatic. Did you intentionally risk the bot lane pushing in, or did you just lose track with how tough the game has been going? Was losing like this demoralizing or was it just another game?
It was definitely demoralizing and yes, we did lose track of the bottom late. We have a thing we call a "boner" in the game. Sometimes you get over excited and you let the adrenaline kick it. Adrenaline is good if you can control it, but it is also dangerous in-game if you lose focus. Everyone has it, but we call it "a boner". "No boners". We kind of knew we were going to win the game towards the end, there was no way they'd win, but we forgot the only way they could. That was our biggest mistake.


If we lose that [PGL] Major, that is going to be the demoralizing one.
To be fair, at the same time we were losing that game and we did come back and nobody likes to rely on comebacks. Top teams don't really think of that actually. We just have to have a strong mentality to be able to do that. However, in the game itself we were losing from the get go. We have some drafting issues. Right now, you can say we have some trust issues, but most of all we didn't get any practice before. I knew we weren't that strong coming into this event, so it wasnt that demoralizing to me. The fact that we almost beat teams like Liquid and Fnatic is reassuring.
I came into this tournament with no expectations whatsoever, I even expected to get 2-0'd by PSG.LGD. But then we got to Fnatic, and we knew they are strong. Not many people did, I think. We practiced with them a lot in Malaysia. We were in a rough state at that time, but when we realized that they are strong and make a lot of good moves, we learned a lot of things from them. I don't want to take anything away from Fnatic, but that game was theirs.
You felt shaky coming to Katowice, how are you feeling going into Bucharest?
Right now it feels better, because we are going to be able to practice, reset, work out our issues out. If we lose that Major, that is going to be the demoralizing one, because that is the one we are going to be prepared for, unlike Katowice. It's cocky to feel bad about a loss that you didn't even practice for. We have to humble down a bit and in a way we did deserve it. Even then, you still have to try to win, have a neutral mindset when you think of these things.
More Katowice Major interviews

—  LeBron: "I feel disappointed with our results, but we have more time to improve"
—  Kyle: "We got drunk and bashed our heads against the keyboards"
— zai: "NA used to be very strong because of cocky players"
—  9pasha: "We didn't learn how to properly use RodjER yet"
—  Solo: "We've known that RodjER is a very good player for a long time, even before TI."
—  EternaLEnVy: "We definitely outdrafted Team Liquid pretty hard."
—  Puppey: "Fata thought about switching his role for a while."
—  Resolut1on: "I haven't seen my girlfriend for a month and a half now."
—  YapzOr: "It's cocky to feel bad about a loss you didn't even practice for."
—  Arteezy: "We probably would've won TI5 if I was a better team-mate, honestly."
—  Fly: "Not doing so well [...] is what motivates me the most."
—  Matumbaman: "I would like us to be the most dominant team in Dota 2 history."
—  PPD: "I can be the loser. Somebody's gotta play the villain, right? I'm just a competitor."
—  Kyle: "I want to build a team that succeeds as part of compLexity."
—  Nahaz: "The pro Dota 2 scene is eunambiguously in a better place than it was a year ago."
—  MISERY: "Nobody really cares if Secret or Liquid are winning, but if EG does anything, everybody's all over them."
—  UNiVeRsE: "I never thought I'd see myself moving from America to another country just to play Dota."
—  Patos: "We need to step back a little and not try to play everything."