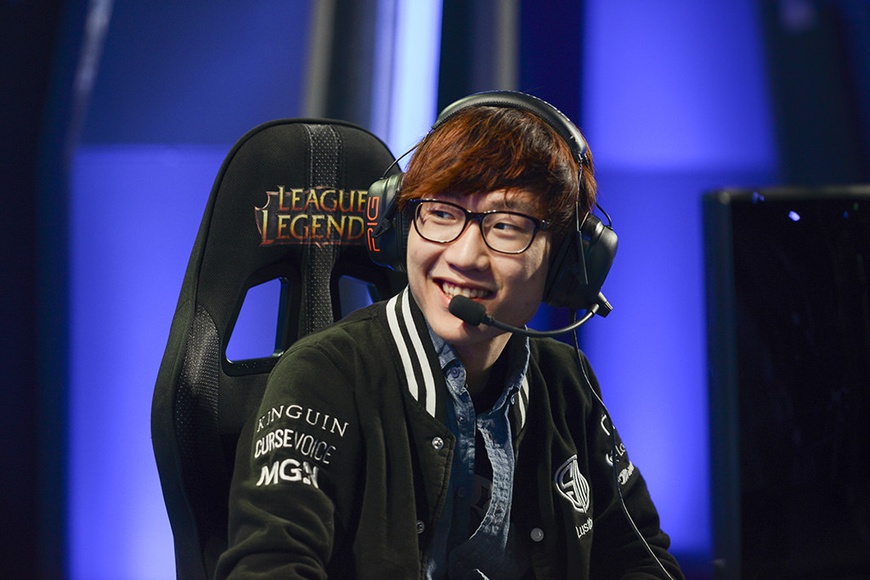 Team SoloMid have promoted assistant coach Ham "Lustboy" Jang-sik to interim head coach, according to ESPN. The team are also reportedly keeping Kim "SSONG" Sang Soo as an assistant coach until Nov. 19, 2018, when his contract expires.
According to ESPN, the move is a result of the poor drafting decisions the team has made in its defeats — with the loss against Clutch Gaming coming to mind. The move was also reflected on the contract database, with Lustboy taking SSONG's spot there, which raised questions as assistant coaches are not formally recognized on the database.
Lustboy once played under the TSM banner as a support and reached the World Championship twice in a row. In 2014, he helped the team reach the quarterfinals, a feat that has only been reproduced by Cloud9 since. The former support had the following to say regarding the situation (as conveyed via Twitlonger):
As you guys know, I ended up taking care of stage coach's responsibility at least for a while. Every member including me on TSM likes Ssong and we think he's smart and advanced. I would say it was a pure luck we got that he chose to stay with us even though he could've chosen not to.

It was very unfortunate that he wasn't able to transfer his whole potential to the stage but him staying us will definitely help us a lot. I just wanted to appreciate his sacrifice and say hope I don't int on the stage.
Under SSONG's command, Team SoloMid had a wobbly start to the 2018 NA LCS Spring Split but bounced back to finish third in the standings with an 11:7 record. However, they were unable to fend off Clutch Gaming in the playoff quarterfinals as they lost 3:1.
The coach will take a pay cut from the $250,000 figure that sources have relayed to ESPN, but he has decided to remain within the organization. He also shared his thoughts on Twitlonger regarding the matter:
I am proud of the fact that I was able to be a part of TSM and work with them, and I am very happy to be a part of the team. I am also thankful and very appreciatve of the support and trust of the fans. I want to do my best to repay the trust and support everyone has given me. It is still very early in the season.

We at TSM will come together to practice hard and I have no doubt that we will put forward a strong result in the end. I have nothing left on my mind except for a TSM victory for Summer. I will put forth all of my effort towards ensuring that TSM refinds its past glory.
Team SoloMid opens its Coach Lustboy era by taking on the ailing Cloud9 and the surprising Golden Guardians starting Jun. 30 at 11p.m. CEST / 2 p.m. PT. You can stay tuned on the action by visiting the 2018 NA LCS Summer Split hub.