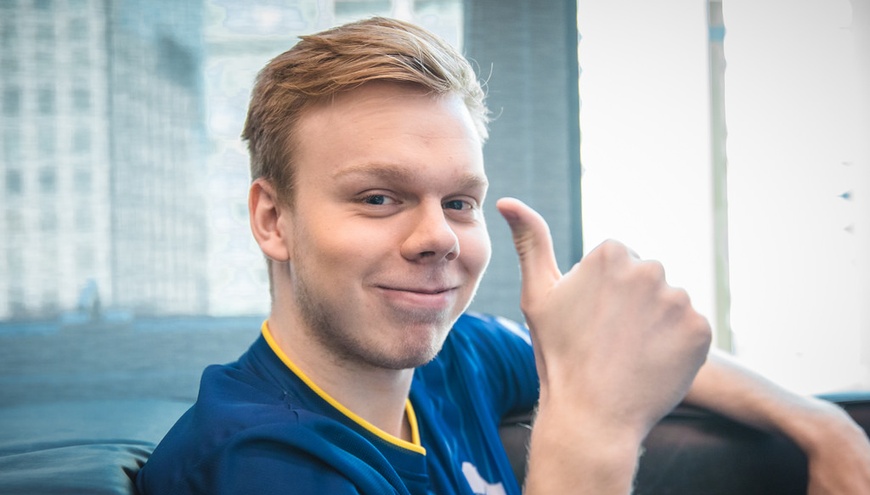 The 2018 League of Legends World Championship entered its fourth day of action, and it had some of the most thrilling games to date in store — especially for European fans.
The day started off on a strong note for Afreeca Freecs, as Mowgli — in his Worlds debut — cleared his entire side of the jungle then flashed over Dragon pit on the blue side and slew the dragon, undetected by Phong Vũ Buffalo. This was, of course, met with jaw drops.
Mowgli :O

— Daniele Di Mauro (@JiizukeLoL) October 13, 2018
October 13, 2018
pretty sure I remember you doing this in a scrim @XerxeLoL 😂

— James MacCormack (@MacCLol) October 13, 2018
The play ultimately contributed to Afreeca's victory against Phong Vu, and it set the tone for something even crazier:
Splyce's assistant coach, MacC, was quick to notice a cheeky line from North American caster Clayton "CaptainFlowers" Raines. We aren't sure how many noticed the original name for the "Tanks and Betty" composition Flash Wolves went for:
SpaBetty and meatballs God bless @CaptainFlowers 😂😂😂

— James MacCormack (@MacCLol) October 13, 2018
However, everyone noticed when G2 started taking off with their 1-3-1 split push composition, completely avoiding team fights.
JUST KEEP SPLIT PUSHING G2, YOU GOT THIS

— Martin Lynge (@Deficiolol) October 13, 2018
The situation ultimately culminated in a way European teams know and love: the backdoor.
@G2Wunder is so fkn good!

— Sam Hartman-Kenzler (@RiotKobe) October 13, 2018
SPY @G2Wunder is back with his splitpush only! What a beast 👏#Worlds2018

— Jonas Kold Andersen (@KoldLoL) October 13, 2018
🤔 #Worlds2018 pic.twitter.com/mQUYSQrcis

— lolesports (@lolesports) October 13, 2018
How many times have I got to retweet this... https://t.co/lE3sL9qGlb

— Andy Day (@RiotVedius) October 13, 2018

I mean, even ocelote, the man that endured the most soul-crushing backdoor known to man during his playing career, had to chime in.
October 13, 2018
The win also marked a milestone for PerkZ, who had won three games overall in previous World Championship appearances. Clearly, this is his year, not Nukeduck, nor Uzi's.
i have 9 wins at this tournament so far thats more than double of what i've has in my both worlds combined before and people are saying this is the year of uzi XD

— Luka (@G2Perkz) October 13, 2018
The North American community may have noticed something was off with AnDa's picture, with fellow North American jungler Contractz taking particular note of the event.
? @AnDa pic.twitter.com/1AZpVjAgrb

— contractz (@Contractz) October 13, 2018
That picture might have been the prelude to 100 Thieves' mood as, despite AnDa's spider senses heavily contributing to securing a significant early-game advantage, Invictus Gaming turned the game on its head in a sub 21-minute finish. FC Schalke 04 Esports' manager was particularly pained at the matter.
Really hurts to watch @100Thieves #Worlds2018

— Nicolas Farnir (@AtomiumLOL) October 13, 2018
Bwipo made his debut for Fnatic against G-Rex, and he predictably received attention from the opposing team's jungler. However, G-Rex's towerdive was questionable, to say the least, with Fnatic netting a quick kill instead.
October 13, 2018
The rest of the game was all Broxah, as his Lee Sin snowballed out of control and, in a rare occurrence, he became Fnatic's carry. The community went from thinking about "thank mr Wunder" for backdoor powers to the following — with Bwipo's endorsement:
thank mr broxah #Worlds2018 pic.twitter.com/3eUgtQABt7

— lolesports (@lolesports) October 13, 2018
thank mr broxah- @Bwipo #Worlds2018 pic.twitter.com/waPwSF55JQ

— lolesports (@lolesports) October 13, 2018

Overall, Day 4 was a great day to be a European LCS fan, with G2 and Fnatic scoring wins to capture favorable spots heading into the four final days of the group stage:
Today was a great day for EU! Awesome stuff @G2esports and @FNATIC

— Martin Lynge (@Deficiolol) October 13, 2018
North American reactions were missing once again, but it was not due to the manner Team Liquid proceeded to beat MAD Team in a decisive yet sluggish victory which, according to VandeR, has potential as a visual lullaby:
TL vs MAD 😴😴

— Vander (@VanderLCS) October 13, 2018
Team Liquid's victory had coincided with an even bigger discussion created by former professional jungler IWillDominate, which has its own article.
Anyone else excited about kt Rolster? #Worlds2018

— Chris Smith (@PapaSmithy) October 13, 2018

LCK shoutcaster Chris "PapaSmithy" Smith may have incited behavior most foul for a KT Rolster fan: excitement. Western KT fans have been molded by disappointment as they were previously excited. Here is a reminder of a cardinal rule for KT fans by MonteCristo:
The first rule of KT is: You do not get excited about KT.The second rule of KT is: You do not get excited about KT.

— MonteCristo (@MonteCristo) October 12, 2018
Even then, one player dared to suggest they would win Worlds, forgetting about other teams that had an equally legitimate claim:
RNG would like a word with you!

— André Guilhoto (@AndreGuilhoto94) October 13, 2018

There will certainly be more reactions on Oct. 14 as Group B reaches its term, and as Team Vitality and Cloud9 seek to eliminate Gen.G during the group stage, with the three of them fighting over the second spot. You can watch the action live starting 1 a.m. PT / 10:00 CET / 17:00 KST live on the Worlds hub!