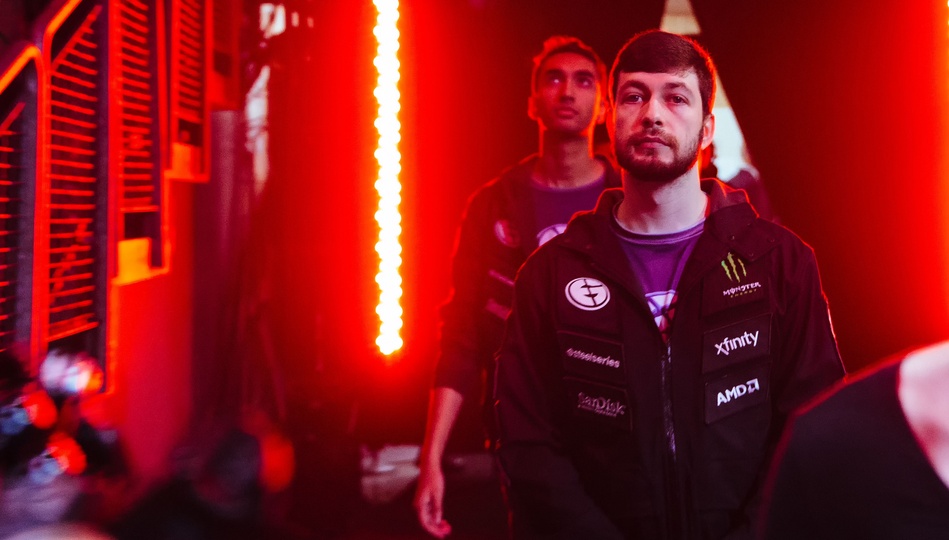 The legendary story of Clinton "Fear" Loomis
"Let's have a little fun," jokes the bearded man with the multicolored basketball. "If I make this shot, I will come back as a competitive Dota player."

He misses off the left rim, then provides all of his disappointed fans with a mock apology.

The well-groomed, happily married man is none other than Clinton "Fear" Loomis. Fear is a Dota 2 legend, with a career spanning over a decade (including five plus years competitively playing the original Defense of the Ancients). He won TI5 as the carry of Evil Geniuses, and is now part owner of the prominent North American organization which he's represented since 2011. Despite his missed shot and relatively advanced age (29), Fear is back to lead his boys in the most lucrative season of competitive Dota 2 ever.

However, things didn't always go so smoothly for the most respected North American player in Dota 2 history. 
Fear's road of responsibilities
"I was your typical parent," said Fear's mother Karen Loomis in Valve Corporation's Dota 2 documentary Free to Play. "'Clinton, you're spending too much time playing computer games. You need to go to school. You need to go to college.' And he would tell me, 'I want to be able to play games and get paid for it.' Now he said this at a very young age before Dota ever came along."

From the start, Fear's greatest challenge was convincing his family that a career in gaming was a legitimate option. Fear's father wordlessly walked out of the house when Fear was just two years old. Karen Loomis was left to raise two boys by herself while also attending law school. As such, she prioritized practicality and had difficulty understanding Fear's professional ambitions, especially with the lack of successful gaming precedent.

Fear was on a European team in the early stages of his career, which inverted his sleep schedule (he lived in Medford, Oregon on Pacific Standard Time) and made it difficult for his mother to sleep properly. Eventually, the tension built up to the point that Fear got kicked out the house because of his gaming. The room that he rented didn't come with a desk, so he assembled his own "ghetto" gaming setup with scrap from his landlord's junk pile and a friend's spare monitor, which he propped up with two books to keep at eye level.

"A lot of financial responsibilities are laid upon me right now, [which] require me to be successful in something or have a job," said Fear at the time. "So, it's pretty critical that I am successful if I want to continue with the gaming career."

His opportunity came when The International (TI) was announced in August 2011. A $1.6 million tournament in Cologne, Germany that would revolutionize competitive gaming. The beginning of Dota 2.

Fear's squad, Online Kingdom (OK.Nirvana.Int), was among the sixteen teams invited to the inaugural TI. His teammates included Dominik "Lacoste" Stipic, Per Anders "Pajkatt" Olsson, Alexandru "ComeWithMe" Craciunescu, and Sivatheeban "1437" Sivanathapillai (along with current EG cornerstone Saahil "UNiVeRsE" Arora as their sub). Although many of these names are well known within the Dota 2 community today, they were a relatively inexperienced team back in 2011. It was 1437's first offline tournament and Pajkatt had just joined the team three weeks earlier. Nonetheless, they managed to go undefeated in the group stage, before losing their first upper bracket game to Invictus Gaming (which featured Chinese legends Luo "Ferrari_430" Feichi, Zhang "Xiao8" Ning and Leong "DDC" Fat-meng).

Unlike the current version, the playoffs for the first TI were exclusively best-of-one series until the final six teams and only the top eight would receive a cut of the prize pool. This put Fear in a very precarious situation. His team had to win their next match against the Malaysian team MUFC, otherwise they would be eliminated with empty pockets.

Toward the end of the 62-minute match, it appeared to be over for Online Kingdom, and potentially Fear's professional ambitions. MUFC were already attacking Online Kingdom's Ancient, but at the last moment Fear baited them away from his team's throne, sacrificing his hero in the process. Fear's distraction was a success; his team completed the comeback and secured $25,000 USD. The dream was alive and well after all.

Conversely, they would lose in the next round to Moscow Five after throwing an early game advantage. Fear attributed their loss to communication problems and the need for a team house to practice together in, but remained optimistic about the future: "Deep down inside, I know this career is gonna work out for me in the end."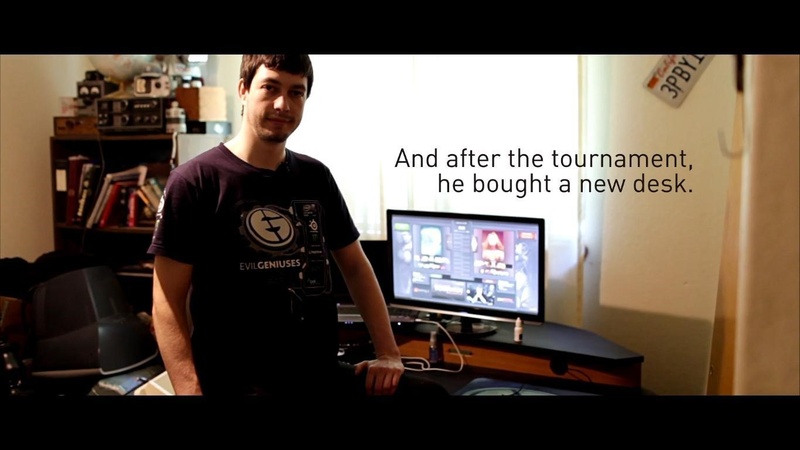 After TI, Fear was recruited by Evil Geniuses to captain and carry their initial Dota 2 roster. Unfortunately, Fear's competitive career would hit a hard plateau in the coming years. EG would struggle to achieve consistent results, placing in the bottom half of The International 2012 (TI2) with no cash winnings and missing TI3 entirely. This was way before roster locks were implemented, so EG had trouble finding a stable composition, even with Fear switching to support for a stretch to accommodate his teammates. The $25K prize he earned at the first TI would actually be his largest tournament take for the next three years.

The solution was S A D B O Y S, a squad comprised of transitioning Heroes of Newerth pros Peter "ppd" Dager and Ludwig "zai" Wåhlberg, EG stand-ins Fear and UNiVeRsE, and breakout superstar Artour "Arteezy" Babaev. S A D B O Y S won sixteen out of their first eighteen matches and were quickly signed by Evil Geniuses in February 2014. Their subsequent victory at the Monster Energy Invitational would be Fear's first triumph at an offline tournament.

Yet just when it looked like the tide was finally turning for Fear's career, he was struck by a devastating arm injury that kept him out of competition for the rest of the season.

"I was just thinking the whole time, 'why'd this have to happen to me?'" said Fear in a TI6 feature on his career. "I've been playing my whole life and, all of a sudden I just can't play anymore right when I have the biggest opportunity of my life."

Fear ended up coaching the team through their top three run at TI4, with Mason "mason" Venne as the substitute carry. But despite the setback, Fear's desire to compete wasn't diminished.

What kept Fear going was hope.
The need to be great
Fear returned to Evil Geniuses after TI4 and the team immediately reeled off impressive results, including victories at the World E-sport Championships 2014, StarLadder StarSeries Season 10, and DreamLeague Season 2. However, there were still internal conflicts in the squad that caused Arteezy and Zai to leave for Team Secret around the turn of 2015. EG revamped their roster with mechanically gifted Kurtis "Aui_2000" Ling as the position 4 support and the then fifteen-year-old pubstar mid Syed Sumail "SumaiL" Hassan.

The new team would be put to the test at the Dota 2 Asia Championships 2015, which boasted the largest non-TI prize pool ever at over three million dollars. Thanks to their new system of actually practicing hard before events, EG eliminated their former teammates on Secret in the lower bracket finals and proceed to sweep Vici Gaming in the Grand Finals. With a first place bounty of more than $1.2 million, Fear's career choice was definitively validated as his squad headed into TI5.

Evil Geniuses' run at TI5 has been thoroughly documented: they placed first in their group and breezed through the main event until losing the upper bracket finals to CDEC Gaming. After dispatching LGD Gaming 2-0 in the lower bracket finals, EG prevailed in their grand Final rematch against CDEC, claiming the Aegis of Champions and $6.6 million -- a far cry from barely getting $25K at the first TI. 
The next year would be turbulent for Fear, as EG was unable to avoid the post-TI hangover that seems to plague every championship squad. Aui_2000 was infamously kicked by ppd in favor of Arteezy's return. Evil Geniuses still managed to place in the top three of the first two Valve-sponsored Majors in Frankfurt and Shanghai but team tension once against got the best of them as Arteezy left for Team Secret again in the middle of March, this time taking UNiVeRsE with him. To fill the void, EG re-enlisted Aui_2000 as well as adding their TI5 coach Kanishka "Sam" "BuLba" Sosale. At the third and final Major of the year in Manila, both Evil Geniuses and Team Secret would crash and burn their way to last place, inducing yet another late season shuffle. UNiVeRsE and zai returned to the team, with Aui_2000 getting kicked for the second time in the same season, just in time for the TI6 qualifiers. The team would make an impressive run from open qualifiers to a third place finish, their third consecutive top three finish at TI. Fear served as a stabilizing influence throughout all the drama and change, switching to support to accommodate Aui_2000's desire to play carry, then returning to the position 1 role with their finalized roster.

After TI6, Fear retired to coach the team, while ppd became the organization's CEO. The team added Arteezy for the third time, along with Andreas "Cr1t-" Nilsen taking over captaining duties. With Fear's guidance, EG had a strong and stable year. They finished 3-4th in both of the year's Majors (Boston and Kiev), won their share of tournaments, and earned a direct invite to TI7. Even so, disaster would strike on the game's biggest stage as EG unexpectedly lost every single game in the Main Event and finished 9-12th.

No other North American team fared any better at the event, which made the timing right for the competitive return of the region's most storied Dota 2 professional. The man that the Chinese Dota 2 community refers to as 'Captain America'.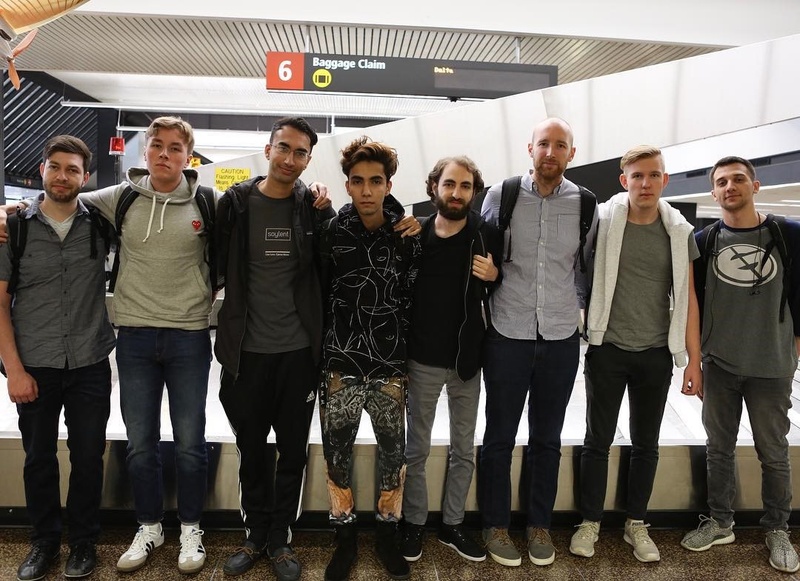 To captain is to foster
Although Fear hasn't been the team's formal drafter in years, ppd has always been quick to attribute a large part of his drafting success to Fear's contributions.
"Whenever people would ask about our team's dynamic, I always described him [Fear] as the co-captain. I could always count on Clinton to make a collected, yet decisive decision. He always had my back and I knew I could count on him when I was lost." -- ppd on Fear's retirement.
With ppd and zai leaving to form their own team (which was recently signed by OpTic Gaming), Fear reprises his role as the original captain of Evil Geniuses. This time though, he's playing the position 5 support, which frees Cr1t- to return to his natural playmaking position 4 style. Fear has chemistry with every team member, built through years of experience, which will allow him to make the calls that fit both team and player needs. He also commands the respect of his peers, which goes a long way toward diffusing any internal conflicts that may arise. Evil Geniuses is expected to be one of the strongest teams in this year's Dota 2 Pro Circuit.

Even though Fear grew up without a father figure, he has always provided his squads with the guidance and mentorship to make sure that things run smoothly. This is especially apparent in his paternal relationships with Arteezy and SumaiL. His characteristic perseverance follows in the footsteps of his mother's determination, and is a tribute to the value of hard work. Fear's selflessness and versatility, even in the face of uncertainty, have been essential to his team's success.

Fear's Evil Geniuses will be competing in the PGL Open Bucharest Minor and the ESL One Hamburg Major this October.