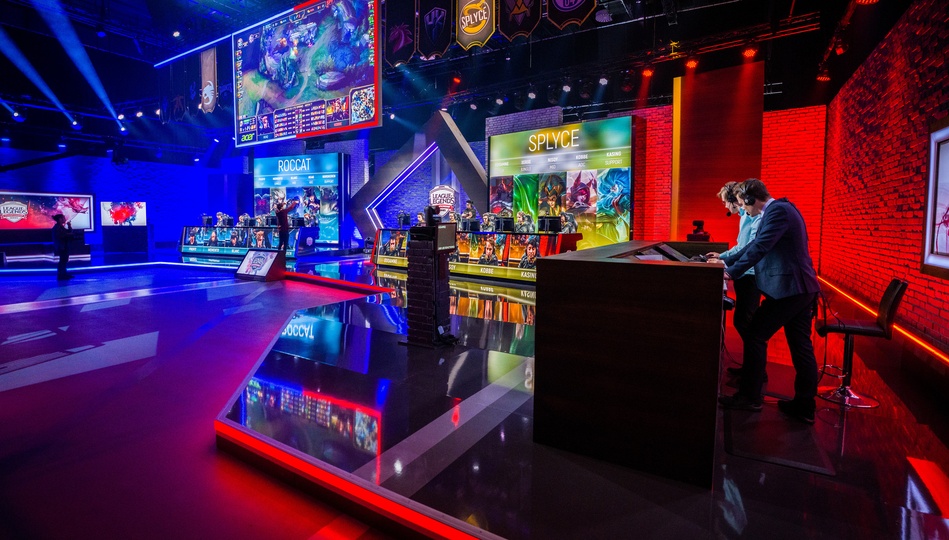 What's the chance of your favorite team reaching the EU LCS playoffs? We crunched ALL the numbers
The European LCS Spring Split is reaching a close within the next two weeks, and the time has come for the teams to throw their lot in guaranteeing their spots in the playoffs. Considering the state of things in the EU LCS, where teams have demonstrated that they could take games off anyone in a 50/50 manner, there are more than a million ways (specifically 1,048,576) that the LCS spring season could unfold.
Cybersport.com has taken the time to examine the landscape, and the ensuing mayhem that could be occasioned in every situation. See for yourself.
Placement odds numbers represent percentages.
| | | | | | | | | | | |
| --- | --- | --- | --- | --- | --- | --- | --- | --- | --- | --- |
| Team | #1 | #2 | #3 | #4 | #5 | #6 | #7 | #8 | #9 | #10 |
| | 78.01 | 17.49 | 4.03 | 0.45 | 0.0053 | 0 | 0 | 0 | 0  | 0 |
| | 13.01 | 60.73 | 18.28 | 6.19 | 1.69 | 0.082 | 0.009 | 0.001 | 0  | 0 |
| | 6.38 | 8.29 | 43.24 | 24.19 | 12.13 | 1.69 | 2.21 | 1.33 | 0.51 | 0.013 |
| | 2.15  | 12.69  | 26.05 | 39.52 | 13.62 | 2.14 | 1.88 | 1.52 | 0.40 | 0.007 |
| | 0.43  | 0.76 | 6.41 | 18.48 | 41.26 | 8.44 | 10.69 | 7.52 | 5.51 | 0.49 |
| |  0 | 0.009 | 0.71 | 4.03 | 13.00 | 20.88 | 24.67 | 13.47 | 19.34 | 3.78 |
| |  0.001 | 0.006 | 0.61 | 3.72 | 9.46 | 13.59 | 27.09 | 18.91 | 20.00 | 6.61 |
| | 0  |  0.013 | 0.66 | 3.37 | 7.18 | 36.23 | 8.99 | 17.12 | 20.15 | 6.28 |
| |  0 | 0  | 0 | 0.017  | 0.76 | 3.80 | 22.82 | 5.91 | 28.02 | 38.67 |
| | 0  | 0 | 0 |  0.022 | 0.88 | 13.14 | 1.61 | 34.20 | 6.07 | 44.06 |
What are the green, blue and yellow highlights for?
If we were to trust the numbers and select one team per position in the rankings, Fnatic have the highest chances of ending first and would inherit first place in a fictitious ranking. Likewise, G2 Esports would inherit second, Splyce third, and so on. Once a team has 'claimed' a spot, it cannot lay claim to other spots, which is why, in the green scenario of maximums and minimums, we would end up with Giants Gaming in tenth place – an unlikely yet realistic scenario. Overall, this scenario is not that likely to occur: 1398 out of a million, 0.13 percent.
Because the likeliness of such standings is so low, the Blue colors highlight a likelier scenario with higher probability of happening, and which would take under account the two teams' slumping ways of late. This scenario is six times likelier to occur, although it still is a small percentage (8838 scenarios, 0.84 percent).
As for the yellow highlights, it denotes the likeliest scenario for a team regardless of other teams' rankings, and it only appears if the scenario is not highlighted in green nor blue.
It would be unwise to stop reading here, as numbers do not account qualitatively for the opposition a team may face. As such, we suggest skipping to your favorite teams and reading what awaits them.
Fnatic
Upcoming opponents:
Fnatic are already playoff-bound, but the team should set its aspirations on a playoff bye spot – if not first place. But even in a disastrous 0-4 end to the season, it could still claim third or fourth place, unless one of 56 freak scenarios occur out of 1,048,576 (at which case Fnatic could fall as far down as fifth, which is still playoff territory).
Considering the team's current momentum (7-1 from Week 4 onward), it would be far-fetched to think that the team would be unable to grab a win and solidify a top 3 spot at the very least. The team's schedule offers four possibilities to do so; although tricky games await against Team ROCCAT and Unicorns of Love, the team has demonstrated that it has the tools to dispatch them as well as Giants and FC Schalke 04 Esports, which they play on Week 9.
All in all, consider us surprised if Fnatic aren't at least in the top 2 – which would happen in 95.51 percent of scenarios – or even in first place, as the team holds a winning record against G2 and Splyce, and can only be forced in a tiebreaker if Team Vitality catch up from a two-game deficit, or if Misfits (which are three games behind) somehow does.
G2 Esports
Upcoming opponents: 
G2 Esports's schedule is laden with possible traps, with the red hot Unicorns of Love and H2K Gaming looking for playoff spots, and a Team Vitality that has G2 on its bullseye. It would be a stretch to say, however, that G2's fate is not in its hands, as a victory would guarantee a playoff appearance at least.
However, G2's situation is not as enviable as Fnatic's, as it is in a proxy war for second place with Splyce, a team that could force a tie in the standings and a tiebreaker, as the two teams hold a 1-1 record against one another. G2's safest bet is to sweep the competition in a 4W-0L record, a matter that would allow it to get involved in tiebreaker scenarios should Fnatic stumble.
The team's most realistic placement would be in the top 4 of the standings, accounting for 98.41 percent of all outcomes. Yet, it could also stumble out of playoff contention in 100 situations (!), or at least be tied at seventh or eighth place. Needless to say, unless the Earth becomes temporarily flat, G2 should not be outside of playoff contention, even with four defeats.
Splyce
Upcoming opponents:
On the other side of the G2-Splyce proxy war, we have a team dealing with one of the trickiest schedules for a front runner. In order to catch up to G2, Splyce have to play spoiler for some of the squads' grander schemes: Misfits and Vitality's ambitions of a top 2 finish, H2K's playoff aspirations, and Giants's safety in the playoffs.
The schedule is a double-edged sword, as Splyce's losses would matter greatly for their ambitions down the stretch. Although the possibility of sinking to ninth or tenth place is a little outlandish, Splyce could realistically fall out of playoff contention should it go 0-4 in the last two weeks.
Splyce are likelier to wind up between third and fifth place (79.56 percent) than any other spot. However, it can realistically contend for top 2 on the wake of a stumble on G2 and Fnatic's side (14.68 percent of all cases), but is just as likely to have a bad few weeks and score the less desirable 3.55 percent odds of falling out of the playoff grid.
Team Vitality
Upcoming opponents: 
Unlike G2 and Splyce, who are on a proxy war for second place, Team Vitality have both in their sights and could realistically aim for second place should it beat both of them – or facilitate four-way tie doomsday scenarios for first place, all involving Fnatic, as it holds a 1W-1L record against it. If you are a fan of crazy scenarios and tense tiebreak moments, this is the team to root for.
However, Team Vitality's task won't be easy. Understandably, facing two teams with their own top-tier ambitions is a bit of a hassle to deal with, but that does not even compare to what awaits them against the Unicorns of Love and Team ROCCAT – two teams desperate to secure a playoff spot, one of which would be reeling or carrying momentum from an encounter against Fnatic.
Granted; there are fringe cases where Vitality would fall way off the grid – in fact, all the way to tenth place in 75 cases in more than a million, but you might want to count them in for the playoffs, in the top 5 (94.04 percent).
Misfits Gaming
Upcoming opponents:
The big question when talking about Misfits is whether the Misfits that beat Fnatic would show up, or whether the one that lost to H2K would. If the Fnatic slayers show up, doom awaits their opponents' ambitions – with three of them in the thick of the playoff race. In fact, I find it ironic that the team that lost to H2K could boost that team's chances of reaching the playoffs significantly if it beats Giants, ROCCAT and UoL.
Misfits may also feel pressure as, unlike the teams above it, they can realistically drop out of playoff contention: 24.22 percent is not small enough of a number to warrant throwing caution off the window. In fact, grabbing top 2 is a much longer shot (1.19 percent), but let's not forget: Misfits has a 2-0 record against Fnatic and can singlehandedly cause tiebreakers galore at the top of the standings – or even claim first place for itself.
Giants Gaming
Upcoming opponents: 
Giants Gaming started the season so well that the possibility of missing the playoffs seemed out of the picture. However, their fall hasn't gone unnoticed, especially with Schalke 04 looking to bounce back. Here's some bad news: Misfits, Fnatic and Splyce aren't exactly what I would call weak teams, and if they play anywhere near the level they have showcased as of late, Giants is likelier to go 1-3 and fall further down the rankings.
Still, Giants's macro should allow them to contend against Splyce and Misfits, not so much against Fnatic. That alone warrants giving Giants the benefit of the doubt in terms of securing a playoff spot (a solid 38.64 percent shot). Not as solid as UoL's should that team go on an unlikely rampage, but much more feasible.
However, you may have noticed that less desirable outcomes happen to be highlighted in the grid above, primarily due to the way the schedule down the stretch works – and to the benefit of doubt given to H2K Gaming and Schalke 04.
Team ROCCAT
Upcoming opponents: 
Can Team ROCCAT pull through where other teams may feel more threatened? Judging by the team's macro, the answer is a resounding yes. The teams ROCCAT face are all within reach – and that is including Fnatic.
However, numbers seem to disagree with reality for a change, as ROCCAT would be out of the playoff picture in 72.61 percent of all possible scenarios. In fact, a heart-breaking close-but-no-cigar seventh place scenario is far likelier than any other for the team, at 27.09 percent, and even stands in the green and blue scenarios.
It is up to the players to take matters in their own hands and prove the numbers wrong – especially if we want to see more dabbing onstage from Norskeren. A 4-0 sweep would propel them into the playoffs or in tiebreaker scenarios at worst, no matter what.
Unicorns of Love
Upcoming Opponents:
There's no love waiting for the Unicorns of Love, only war. In order to become a playoff team and secure that juicy green scenario, UoL have to become the best EU LCS team overnight. Of course, the team has a legitimate shot at the playoffs, but compared to H2K and Team ROCCAT (and even to Schalke), the outlook looks fairly grim for a squad that has been running on jet fuel.
Even then, UoL have a much higher chance of reaching sixth place than Team ROCCAT, Giants, Schalke 04 and H2K Gaming have at reaching the playoffs. All they need to do is claim a few wins, and watch the other teams crash and burn while they fight one another. Bonus points if they goes 4-0 and align themselves as the quarterfinalist that nobody wants to face or, even better, gets involved in a gigantic tiebreaker for second place.
FC Schalke 04
Upcoming opponents: 
Of the teams currently in the running for a playoff spot, Schalke 04 have the least going for it. The latter has been on the down slope, and the team's coaching staff even put itself under pressure on Twitter. Under such tough circumstances, it is hard to see how Schalke can reach the playoffs.
Maybe, just maybe, Schalke is a bit of a prideful moment away from sweeping the week and claiming a playoff seed and realize one of the 4.57 percent situations – 21.86 to one, not accounting for momentum, which would spice up gambling odds a fair bit. After all, this is Kiss "Vizicsacsi" Tamás, Milo "Pridestalker" Wehnes, Erlend "Nukeduck" Våtevik Holm, Elias "Upset" Lipp and Oskar "VandeR" Bogdan we're talking about.
But maybe, just maybe, the playoffs are indeed out of reach, and Schalke may have to focus on preparing for the upcoming season. There is no relegation threat to speak of, so there is that. 
H2K Gaming
Upcoming opponents:
If you are an H2K-Gaming fan, you might want to also be an honorary Misfits fan for the next two weeks; that team's schedule coincides with your favorite team's playoff aspirations – especially considering H2K's rough schedule. If you have skipped straight to this section, I heavily recommend going to the Misfits section as well.
That is not to say that H2K's odds of pulling a 4-0 finish to the season is unrealistic – in fact, I find that to be far more realistic than UoL's chances at doing the same, considering H2K's momentum and its opposition's name not being Fnatic.
I would not accuse H2K fans of madness, as the team has a legitimate shot at the playoffs and holds the cards to it in its hands. That 13.14 percent chance on the above chart should be the team's primary objective, and nothing else – especially given its ability to recover from a 1-7 start of the season off strong macro play.
How about ties?
For those curious enough about ties, we have investigated the possibilities of ties separately from the above analysis. Results have been rather shocking: spectators would be spared lengthy tiebreakers in only 4233 situations (0.04 percent). Needless to say, you better be ready. Here is a list of figures to help you prepare for potential doom:
Two-team tiebreakers: 209899 possible outcomes (20.07 percent)

Three-way tiebreakers: 569262 (54.29 percent)

Four-way tiebreakers: 219690 (20.95 percent)

Five-way: 40663 (3.88 percent)

Six-way: 4599 (4.39 percent) - more than the no-tie scenario

Seven-way:

231 cases

.

Eight-way tie:

8 cases,

in which Fnatic would be first.