What's wrong with Virtus.pro CS:GO?
Virtus.pro is the only well-known team in the CS:GO scene to not change the roster for more than four years. Until recently, the Poles were championship material. However, since the spring of 2017 their results have become worse, which casts doubt on the line-up's future. Cybersport.ru tells how the team made a name for themselves and what the future holds for them.
Formation and performance
Virtus.pro is a unique example of a long-living team in Counter-Strike. Wiktor "TaZ" Wojtas and Filip "NEO" Kubski have been playing together since 2004, a time which rivals that of other legacies in CS such as SK's, Fnatic's or NiP's. In Counter-Strike 1.6 the Poles were a real powerhouse -- they won WCG three times and became world champions according to IEM and ESWC multiple times. However, their transition to CS:GO was not easy.

The roster joined the new discipline representing ESC Gaming. The team started playing a month after the game was released and initially, everything seemed alright: multiple top 4 results, a victory at StarLadder StarSeries IV, and success at IEM Katowice. However, 2013 was probably the worst in the players' careers as they would get eliminated at the early stage of every tournament they entered.

In the summer the team realized they couldn't keep playing with the same roster. Mariusz "Loord" Cybulski left the team in July, Jakub "kuben" Gurczyński followed suit in September, and it was rumored that Jarosław "pashaBiceps" Jarząbkowski would be kicked, too. The team was on the edge of disbanding, but everything turned out in the best way possible. The squad kept pasha and started looking for young Polish players to fill in the two missing spots. As a result, Janusz "Snax" Pogorzelski and Paweł "byali" Bieliński joined the team. And then the history of the future Virtus.pro Counter-Strike: Global Offensive roster started.

Naturally, VP's play did not immediately improve. Towards the end of 2013, the team's performance was unstable but in December a StarLadder StarSeries VIII win was recorded and VP started a new year playing for the Russian organization. This was the most successful CS:GO season for the Poles.

In 2014, the team attended about 20 tournaments and didn't reach top 4 only at two of them. On home ground, the squad won Major EMS One Katowice 2014, losing only one match to LGB eSports during the event, which they didn't give up easily, pushing it to overtime. Summarizing the year's results, HLTV featured three VP players in their top 20 list: pashaBiceps, Snax, and byali.

While the team didn't dominate the scene, it was certainly among the leaders and would always be next to Fnatic, Ninjas in Pyjamas, and Team LDLC. Virtus.pro played at the same level within the following two years.
In 2015-2016, inconsistencies in team's results ensued but they would still gain titles. VP made it to playoffs of Majors, won several events by ESL, ESEA, DreamHack, FACEIT, and StarLadder. They never stopped being a threat to the scene's leaders.

At the beginning of 2017 the team was close to winning another world championship title, but Astralis made an impressive comeback in the deciding game at The ELEAGUE Major 2017, leaving VP without a trophy and wounding their pride. The Poles didn't hide they wanted to avenge the Danes, especially after Markus "Kjaerbye" Kjærbye said that Astralis had become champions despite the poor performance. TaZ promised to wreck the opponents at the following event and he kept it: no one, including Astralis, could stop "Virtus.plow" at DreamHack Masters Las Vegas 2017. It seemed like VP would be a top 3 contender at all important tournaments. It turned out to be the opposite: right at the following event the team didn't make it out of group, giving a start to their bad break.

What did the team achieve within these years and what has been happening to it recently?
What Virtus.pro achieved
During their four-year career, Virtus.pro became one of the most successful teams in CS:GO history. Yes, they are not three-time champions like Fnatic nor did they set a win streak record like Ninjas in Pyjamas. However, they have won more than ten times at the most important events. Notably, the team was successful in different years, with different meta, patches, and map pool.

If you turn their achievements into numbers, then VP is the best team on the international scene. According to e-Sports Earnings, within the five years of their existence the team has won $2,449,108 from 105 tournaments — more than any other team.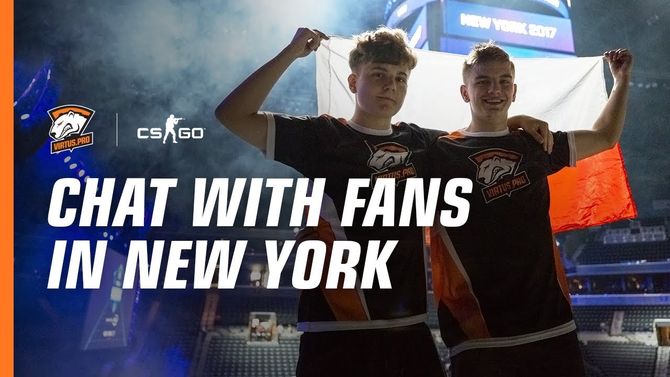 TaZ, NEO, and pashaBiceps gained authority among their colleagues back in the Counter-Strike 1.6 days, but in CS:GO they only amplified this authority. The team is also appreciated by fans, with certain players commanding more fans than the team itself. A textbook example is pashaBiceps, whose straightforwardness and frankness makes his poor English irrelevant. In Poland, the players are idols.

What is wrong with the team now?
In February 2017, Slingshot's columnist Steven Chiu called Virtus.pro the final boss in CS:GO, but nowadays only second tier teams -- and not even all of them -- fear them.

Virtus.pro have both individual and team problems. The roster re-distributed roles many times as NEO or TaZ would pass each other the in-game leader role. In 2017, Snax led the roster, but the experiment failed. At the time, it seemed like the new captain would let other players have more time and energy to improve individually but that never happened and VP lost their power because Snax had always been their main strength. As he became a captain, his game shape significantly worsened: no one from Virtus.pro could make Virtus.plow.

Importantly, other players lost their stability either. If last year pashaBiceps underperformed more than others, now the weakest one is TaZ stats-wise, while pasha got in shape. It is the main problem for Virtus.pro -- the team would rely on their strongest players and constantly pressure an opponent. Now there is no one who could face Marcelo "coldzera" David, Nikola "NiKo" Kovač, Olof "olofmeister" Kajbjer, or Kenny "kennyS" Schrub head-to-head. Previously, VP would perform poorly only online, but have since stopped showing their signature style at LAN events as well.
It is impossible to tell why that happened. Maybe the older players are fed up with Counter-Strike, despite always saying the opposite. Maybe the fact that they have children who require a lot of time affects the situation. Maybe they are emotionally drained. Maybe a Mercedes influenced the emotional balance in the team. Who knows...

One thing is clear: there are serious issues in the team. As Snax said on Facebook, he isn't happy with his older teammates shape. They, however, think that the problem is different. It seems like there is a conflict between the older and the younger players like Snax and byali.
What comes next
Similar situations have already occurred in CS:GO. Ninjas in Pyjamas dominated the scene in the early CS:GO stage, but things got worse for them later. The team relied on four "performers": Christopher "GeT_RiGhT" Alesund, Patrik "f0rest" Lindberg , Richard "Xizt" Landström, and Adam "friberg" Fribergand they would always change the fifth player. However, NiP didn't manage to keep up a high level. Due to frequent kicks, everyone started making jokes and many people considered friberg, who performed worse than his teammates, the problem. NiP refused to replace the veteran for a long time until they finally did it in the summer of 2017. 

One would think you can expect the same from Virtus.pro but the members have repeatedly stated that the team is family not to mention contractual obligations with the org lasting until 2020. Granted, some of the players could be offered a transfer but can other organizations afford such an athlete? And will anyone buy a mature player who has played for national rosters his entire life?

There are talented players in Poland so on paper VP have options: they could always pick up someone from Team Kinguin, AGO Esports or acquire Pawel "innocent" Mocek from PENTA Sports. But who should leave? TaZ and NEO are obviously the ones underperforming, but they keep the roster together. PashaBiceps' and byali's performance is decent and there is no doubt Snax will gain his shape back. The team is in a stalemate.

The perfect option for the team is to miss a few tournaments and sponsor events, devoting more time to practice. Is the organization ready for it though? It makes money by not only performing successfully but also by using the players' public image: advertising, promotion videos and etc. If the Poles leave the media for a couple of months, Virtus.pro is going to miss some money and, probably, won't receive invites for upcoming tournaments.

If the team doesn't get freed from any events, they are going to have to adapt along the way, which they have failed to do so far. Think of what happened to SK Gaming after João "felps" Vasconcellos' transfer, how long it took Danylo "Zeus" Teslenko to turn Gambit Esports into world champions and how Fnatic have struggled within the year. Things are even more difficult for VP. If nothing works out for the team soon, changes will be inevitable, no matter how serious the players' contracts are.