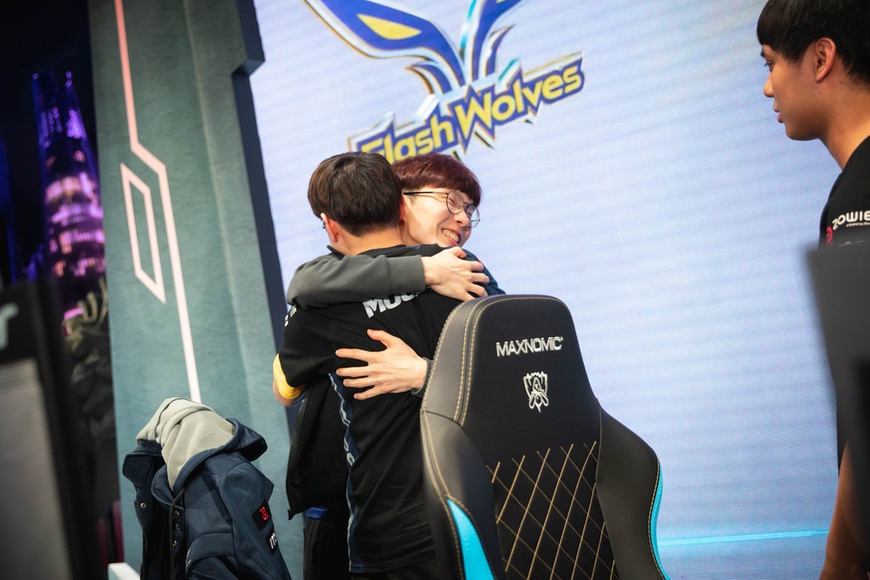 There is no telling what will happen in the 2018 League of Legends World Championship's Group A after madness ensued in Group B, with Cloud9 coming close to securing the top seed in Group A. However, the seeds of insanity have already been planted there, and the matter could escalate further should our selection for Day 6's Match of the Day go a very specific way.
There is no denying it: G2 Esports have the opportunity and the ability to claim victory in this game and seal, once and for all, their status as bracket stage participants. Should Jankos be in top form, G2 Esports may be able to implement deadly 1-3-1 game plans as they did the last time the two teams faced one another. As an added bonus, they have counterpick advantage — which they used in utterly dismantling Afreeca Freecs — on either of PerkZ or Wunder, the revelation of Worlds so far.
Flash Wolves' approach to the game was predictable when they faced, as Maple and Hanabi selected bruisers to protect Betty's hypercarry in team fights that they would probably never lose — team fights that never happened. The Taiwanese team would be wise to flip the switch and play differently against a G2 squad that specializes in 'Divide and Conquer' strategies or, at the very least, provide Moojin with even more agency, as they did against Afreeca Freecs.
Flash Wolves' game plan, simple in appearance, could turn tricky: hold Jankos down, and shut down lanes. A heavy emphasis on Jankos may leave them open to G2 opting for wild picks such as Hjarnan's Heimerdinger, or to flex picks the Akali/Urgot way. G2 are capable of playing team fighting compositions, but they are better pressuring the map.
A G2 victory would put pressure on Flash Wolves to win all of its other games, as they would lose the tiebreaker advantage. In fact, should they lose against Afreeca Freecs in the first game, they would almost be guaranteed an exit. Perhaps they may find solace in G2 playing against the only team that defeated them in the group, Phong Vũ Buffalo, before they face one another. Even then, a G2 victory against the Vietnamese squad would raise the stakes on them and Afreeca.
G2 enter the bout with an advantage on paper, and Flash Wolves would be wise to pull all the stops against them. Tune in Oct. 15 at 12:00 CET / 3 a.m. PT / 19:00 KST, or tune in to the entirety of the day starting 10:00 CET / 1 a.m. PT / 17:00 KST live on the Worlds hub!