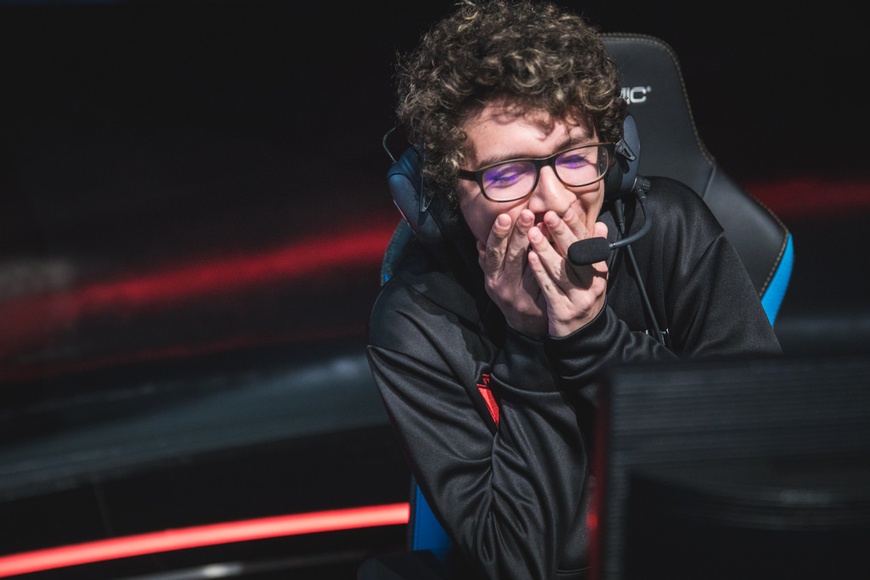 The 2018 League of Legends World Championship Play-in group stage has provided a great amount of feats to hail, but it wasn't done yet as Group A and Group B had some matches left.
Despite G2 Esports' iffy performance level in Day 2, color shoutcaster Andy "Vedius" Day was adamant that they were going to recover despite community skepticism. Although you couldn't blame the community for that sentiment, he may have been onto something.
As I was saying..Anyone saying that G2 will not make it out as first seed in their group is trolling.I'm sorry but there's just no way. Supermassive has some good players but the meta doesn't suit them and individually they are outclassed.

— Andy Day (@RiotVedius) October 4, 2018
Other casters had something else on their mind, but Cloud9 were having none of it — specifically, David "Phreak" Turley's bold predictions that 'everyone would win Worlds.' Even fellow caster Max "Atlus" Anderson chimed in on the matter, a proof that science had gone too far.
#Worlds2018 @RiotPhreak pic.twitter.com/w7jK4CgtpT

— Cloud9 (@Cloud9) October 4, 2018
According to @RiotPhreak I think we're going to have a 24 way tie for 1st this year. Noice.

— Max Anderson (@Atlustv) October 4, 2018
Many had expected surprises from G2 Esports' faceoff against Bahçeşehir SuperMassive, but such expectations were unfounded. However, Worlds decided to dispense a spicy serving of upsets — enough to make Korean casters remember Sergio "Cotopaco" Silva's name. Somehow, EDward Gaming went against the grain and lost a game in Group A.
Seasoned LPL fans would have told you not to give EDward Gaming too much credit, as they tended to perform in the most interesting way possible when under the spotlight. To be fair, Infinity eSports CR's win was far from a fluke as they abused their team composition to its fullest extent. However, EDG still had a 2k gold lead very early, and losing the game from such a position is a worrisome fact in itself.
EDG losing this game is the most EDG thing of all time.

— Mark Zimmerman (@TheeMarkZ) October 4, 2018
Praising EDG is the worst thing you can do. 毒奶。。。

— Kelsey Moser (莫凯西) (@karonmoser) October 4, 2018
Infinity's great day was not about to end against Dire Wolves, no matter how crazy the game went, and how much back-and-forth action there was. Although Cotopaco and Diego "SolidSnake" Vallejo controlled the flow early, Shern "Shernfire" Tai and Stephen "Triple" Li mounted a comeback, with neither team having a clear advantage until Infinity slew Baron Nashor.
This game is insane

— Martin Lynge (@Deficiolol) October 4, 2018

In the end, it came down to a pentakill from Renato "Renyu" Gallegos to seal the deal for the Latin America North representative, saving the area from having no representation at Worlds as Kaos Latin Gamers and KaBuM! e-Sports ended last in their groups. To come back from a 0:2 deficit was impressive, but to beat EDG was even better.
Infinity Esports you guys should be so proud; holy shit what a comeback! The second time now I've seen a massive teamfight at mid from a Rakan ult be the Achilles Heel for EDG at Worlds! Damn I love #Worlds2018!

— Clayton Raines (@CaptainFlowers) October 4, 2018
In the midst of all of this, G2 quietly reemerged in Group A as they won against Ascension Gaming, although FC Schalke 04 Esports' support, Oskar "VandeR" Bogdan, wished to raise a point regarding something he found highly questionable.
After seeing those Pykes in play-ins all I want is @FNCHylissang showing how its done #Worlds2018

— Vander (@VanderLCS) October 4, 2018

Whether Zdravets "Hylissang" Galabov will be able to play Pyke during the group stage or not remains to be seen. One thing for certain, Ascension shot themselves in the foot during the draft, and OpTic Gaming head coach Thomas "Zaboutine" Si-hassen was left scratching his head at their display.
Drafting Kassadin + Vayne in competitive is like buying two tickets of lottery and congratulate yourself because you literally doubled your chances of winning. pic.twitter.com/yIx6ggPiF7

— Zaboutine (@Zaboutine) October 4, 2018
At least, Konstantinos "FORG1VEN" Tzortziou must be happy somewhere in Greece, as his blessing has been successfully transmitted.
thank mr forg1ven #Worlds2018 pic.twitter.com/gsfTsSXilo

— lolesports (@lolesports) October 4, 2018
In the end, G2 Esports bounced back from their Day 1 showing and captured first place after trouncing both Ascension and SuperMassive throughout the day — and Phreak had the last word on Atlus.
Yes it is. https://t.co/bstfnJcGtA

— David Turley (@RiotPhreak) October 4, 2018

The fact however remains: despite popular clamor, the first seeds of Group C and Group D did not struggle as much as Group A and B's headliners, who went on to lose a game. Leave it to ESPN's Tyler "FionnOnFire" Erzberger to cheekily remind us of the fact as the knockout round looms.