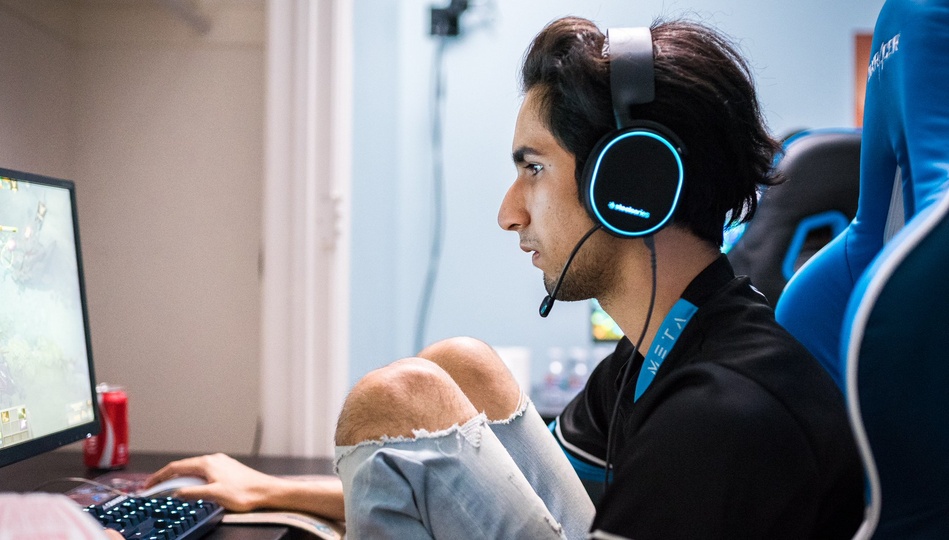 Yawar at TI8: "I'm confident I would win [vs. SumaiL], actually."
On media day of The International 8, VGJ.Storm midlaner Yawar "YawaR" Hassan spoke to Cybersport.com about their (then) upcoming match versus OG, which has since ended in OG's favour and the possibility of meeting his brother on the battlefield.
* * *
First in your group? That was unexpected.
Yeah, it was unexpected for us too. We were hoping for top 4 and we just got top 1 somehow.
What did you do better than anyone else?
I just think everyone else played worse. We played well, but our opponents were a little worse than us. 
Now that you're the No. 1 seed in your group, have you started considering how far can you go?
I came here to win. I'm aiming for first place.
Well, if you look into your group stage, you came through some really good opponents and you only lost to Virtus.pro. What did they do different that no one else did?
We were trying some stuff. There was nothing on the line, and our team can't really try when there's nothing on the line. 
It's also an interesting scenario, that if you win that match [vs. OG] and Evil Geniuses win theirs, you'll be going against your brother [SumaiL] in the mid lane. How would that feel?
I'm pretty hyped. I'm confident that I would win, actually. 


I came here to win. I'm aiming for first place.
You think you're better than him at the moment?
Yeah, I have to think like that, otherwise, it's already over. 
The last time we saw you was at Dota Summit and you have improved since. Was Dota Summit just you messing around and not wanting to show too much?
When we got there, we were like, "Don't get triggered. Just play the game for fun." Personally, I was practising a lot of 1v1's with fn [from Team Empire — Ed.] so I got a lot of confidence from that. Before the group stages, we beat PSG.LGD in scrims, so that gave us a lot of confidence too. 
Have you had a chance to look at how OG play? What are they good/bad in general?
We've been following them a lot, we have a good idea of how they play. They're pretty chaotic. They outnumber you most of the time, that's what you should look out for. The key for us is not to get snowballed and we'll be fine. 
You're in your first DPC season and you'll be going against Topson, for whom these are the first months of the season. Do you prepare specifically for him in any way?
His hero pool is... everyone knows what he plays, right? He plays the same hero every game, so it's pretty easy to play against him. But he's a very good player. [Then], I prepare for the match-ups, what heroes are good versus his heroes. 
You didn't have that many good results in the DPC season until you added Resolut1on. What did he bring to the team that you lacked before?
He brought a lot of experience. He doesn't really get tilted. He's a very cool player to have, he makes a lot of calls, too. For a lot of us, like me and SVG, that's the first real pro team. 
That's true for SVG in terms of first real pro team, but he's been very highly sought-after as a coach. How has been able to help you?
He helps us a lot, he's a pretty smart guy. He tells us what our roles in the game should be. 
How is he in-game on the ppd/Fly scale between having things in full control and working with the team?
I think he's kind of like Fly. He likes to work with the team, he's no dictator or anything and he takes advice from me and the rest.
More TI8 coverage
Interviews
— 
 GH: "I'm not thinking about winning [TI], just focusing on winning the next game."
— 
 Ace: "Lately, we've been very sloppy with Rosh. We've lost a lot of Roshans out of nowhere."
— 
 Fly: "I saw that what EG needed to succeed was someone like me and someone like s4."
— 
 kpii: "[Winstrike] are probably our most comfortable opponent."
— 
 EternaLEnVy: "The players are, individually, more stable but the team itself isn't."
— 
 Mushi predicts TI8 playoffs day 1
—
 Solo: "This time, we got a really, really bad bracket."
— 
 xNova: "VP have the same problem as us: struggling in the laning phase."
— 
 Puppey: "You must love this game in order to do it for a living."
— 
33: "I feel this is the first year I've got to play with a real team."
—
 V1lat: "This is the first TI without a single weak team."
— 
 Serenity manager Fu Su: "VG and Newbee have a huge chance in this TI."
— 
 Fly: "I joined the team and I saw plenty of good things, not problems"
Analyses
— How do the teams rank before the biggest event of the year?
— The newcomer's guide to understanding Dota 2 at TI8
— TI8 Metagame preview
— How LGD are perfecting positional play
— Analyzing the key to Liquid's dominance
Previews and stories
— paiN and MISERY: The poetic weapons of a SA King
— Predicting TI8 with Winter, Lyrican, and TrentPax
— CIS players predict TI8
— The 'father' of the champions: the TI7 winner that nobody knows of
— China, not as bad as you might think
— The big gaps of EU, SEA, and CIS
— The American late bloomers
The TI records
— The lowest win rate hero
— The most healing done in a single game
— The most deaths in a single game
— The most picked hero of all time
— The most banned hero of all time