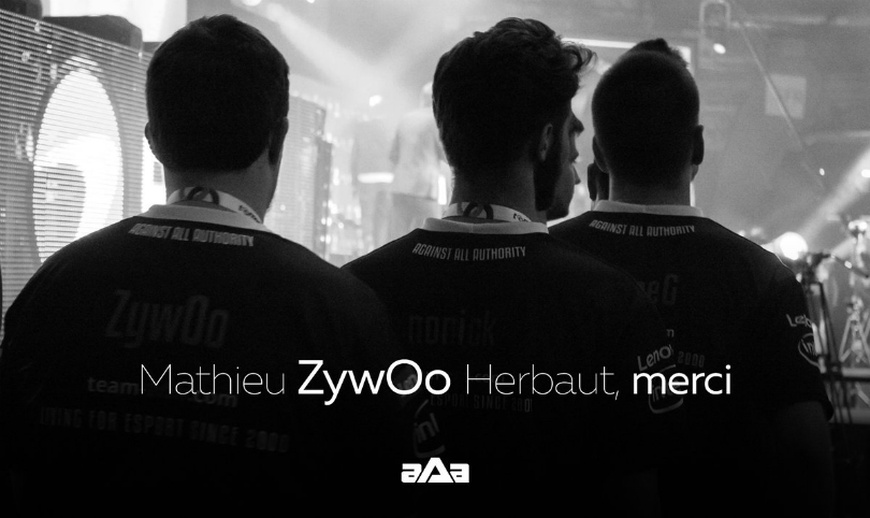 Mathieu "ZywOo" Herbaut has been in the spotlight of competitive CS:GO as of late, most recently for having been invited to the FACEIT Major — London 2018 as a reward for his outstanding individual record in the FACEIT Pro League circuit. The Frenchman had attained #1 for three consecutive months, and as a result received a special invitation to watch the recently-concluded Major live in London. Additionally, ZywOo was part of the Showmatch played on grand final day, where he secured a victory with Team Rain over Team smooya.
While the FPL may have shed light on the Frenchman's talent, he has been a cardinal part of the Against All Authority organisation for the past 13 months. Despite his efforts, the team has not been able to secure participation at noteworthy LAN events, as difficulties were experienced during online qualifiers for said events. 
As a result of the aforementioned, ZywOo was recently announced to have parted ways with the against All Authority organisation, as per an official announcement. The French player is no longer a part of aAa, effective immediately.
As a result of zywOo's departure, aAa are left with the following four players:
— Benoit "MetaL" Guelette
— Benjamin "waneG" Taquet
— Matthéo "nonick" Canei
— Charbel "BouLy" Naoum
— Mathieu "ZywOo" Herbaut ▼
AAa confirmed the deal involved another organisation signing the player; however, no information was given in regards to Herbaut's actual destination. Rumours have been circulating around zywOo's addition to the Waterboys roster, composed of benched G2 Esports duo, Dan "apEX" Madesclaire and Nathan "NBK" Schmitt, alongside ex-Team Envy's Cedric "RpK" Guipouy and Vincent "Happy" Cervoni.